The Burnt Branch Philosophy
Home decor is such a wonderfully intimate experience. You see it every day and display your personality to every guest invited into your home. The problem is that everything available looks the same! You want your guests to feel at home, but you don't want your decor to LOOK like THEIR home!
That's where I come in, with my unique and personlized home decor. Here you'll find a wide selection of quotes and picture frames that will make your home your own. My elegant frames are unique because YOU'RE unique and deserve something that will set you apart. If you don't find something in my shop that resonates deep within you, send me a message and we can have some fun constructing a one-of-a-kind piece that everyone will know represents the one and only YOU!
My goal is to make you surprised with how amazing your item is and how quickly it got to you! One of my favorite quotes is "My advice is, never do tomorrow what you can do today. Procrastination is the thief of time." by Charles Dickens from David Copperfield.
Per Aspera Ad Astra!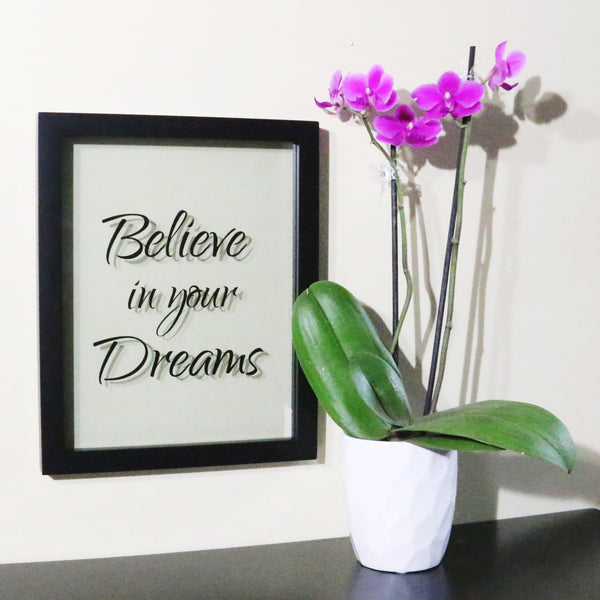 Testimonials
Amazing! Excellent customer service, fast shipping & beautiful craftsmanship!

Samantha G.
I appreciate people who make the packaging as cute as the product! I love my Joan of arc saying and can't wait to hang it in my office. Thank you so much for the care and the quickness of its arrival!

Elizabeth D.
Super fast shipping, beautifully packaged. Arrived unharmed and exactly as pictured. Love it!

Tammy B.
I have been looking for a way to display a quote from my mom and saw this item. Daniel was incredibly helpful and patient as I chose from several designs he produced. The plaque arrived very quickly and was *beautifully* wrapped -- if you are sending as a gift you will be very pleased with the esthetics. Could not be happier with the purchase.

Emmy
I had a special order and they were easy to accommodate my request. I was originally thinking this order would take 2-3 weeks to complete, it was to my joy that it arrived within a week and a half of when I made the order. Once I received the items, they were packaged neatly and ready to give out. Once the gifts were opened, my friends loved them and were amazed by the quality. I am very very pleased with what I ordered and hopefully I will do business with them again.

Sean P.
My husband was so thrilled with this gift! Such a unique way to immortalize a memory! Service was so quick and great!

Salamanderpal
I purchased 13 floating quotes each one was amazing. They are BEAUTIFULLY wrapped also Super fast communication and shipping

Kitty
Perfect! Even better than I'd imagine. Super fast communication and shipping. Thanks again!

Lani
Second time I've come for an engagement gift. Beautiful frames in the best gift wrapping. I love this shop!

nscully